Recent news of interest:
The new Texas law requiring reporting of chemicals in frac fluids becomes effective February 1. The law also requires operators to report the volume of water used. Dr. Dan Hardin, resource planning director of the Texas Water Development Board, projects that in 2020, more than 40 percent of water demand in La Salle County (in the Eagle Ford Shale) will go toward fracing. http://www.nytimes.com/2012/01/15/us/new-texas-rule-to-unlock-secrets-of-hydraulic-fracturing.html
Last year, Dr. Robert Howarth, a professor at Cornell University, published an article concluding that natural gas causes more global warming per unit of energy created than coal, upsetting the widely published belief that natural gas is a more climate-friendly fuel. Dr. Howarth said that previous studies did not take into account that as much as eight percent of produced natural gas escapes into the atmosphere between the wellhead and its consumption. Now a colleague of Howarth at Cornell has published a study challenging Howarth's fugitive gas estimate. Dr. Lawrence Cathles concludes that gas has one-half to one-third the greenhouse gas footprint of coal.
The U.S. Energy Information Administration said that the average wellhead price for natural gas fell from $4.37 per MMBu in 2010 to $3.98 in 2011, the lowest since 2002. http://fuelfix.com/blog/2012/01/10/natural-gas-production-drives-price-down/ Cheap natural gas is making it hard for wind and solar projects to compete. http://blogs.desmoinesregister.com/dmr/index.php/2012/01/05/cheap-gas-a-threat-to-renewables/http://www.npr.org/2012/01/05/144526652/solar-panels-compete-with-cheap-natural-gas 
With low gas prices and high oil prices, rigs continued to move toward shale plays: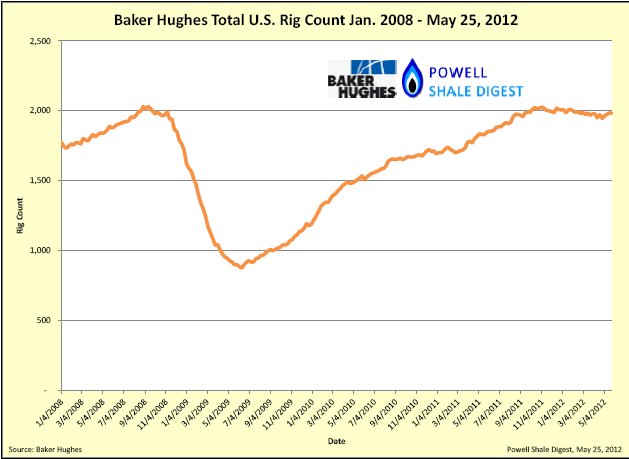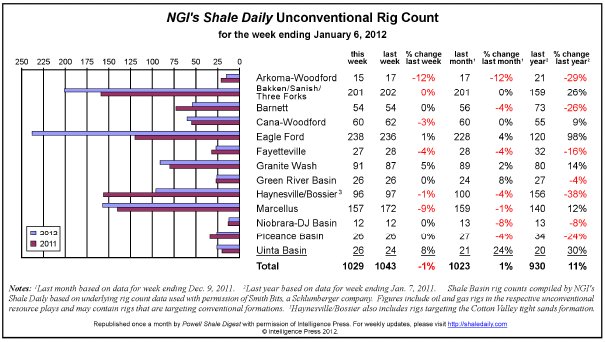 2011 saw a record $86 billion in 2011 U.S. oil and gas upstream deals, up 15% from 2010 — a year that was itself a record. Top deals in 2011: BHP Billiton's acquistion of Petrohawk, $15.1 billion; Kinder Morgan's acquisition of El Paso Corp, $7.2 billion; BHP Billiton's acquisition of Chesapeake's Fayeteville Shale properties, $4.75 billion; Statoil's acquisition of Brigham Exploration, $4.7 billion; Marathon's acquistion of Hilcorp Marcellus Shale interests for $3.5 billion. All of these deals were driven by shale plays. China's Sinopec oil company recently announced that it will pay $2.2 billion for a one-third stake in Devon Energy's plays in five shales in Mississippi, Colorado, Ohio, and Michigan. Oil & Gas Journal estimated that E&P spending will rise 9.3% this year to a record $595 billion.
In New York, the four-month comment period is closing on regulations proposed by the Department of Environmental Conservation for fracing. The DEC received more than 20,800 comments, a record. State Democratic leaders called on the governor to withdraw the proposed regulations and for a permanent ban on fracing. Industry lobbyists called the proposed regs excessively restrictive, inequitable and unjustified. The Independent Oil and Gas Association of New York claimed that the rules would render half of the desirable drilling parcels unuseable. Environmental groups are divided. The Sierra Club,the Natural Resources Defense Council and the Nature Conservancy have been working with regulators and the industry to come up with workable regulations, seeing natural gas as a cleaner "bridge fuel" for transition to renewable energy sources. Other local environmental groups are opposed to any regulations that would allow development of the Marcellus in New York. Clair Sandberg, a founder of Frack Action, called the cooperation between national environmental industry groups and industry a "marriage of convenience." "It was too daunting to try to take on coal and gas at the same time. Now they find themselves with a mutiny on their hands."
Reports continue to surface in Pennsylvania of methane contamination of water wells allegedly caused by fracing. The Pennsylvania Department of Environmental Protection cited Cabot (again) for contaminating three water wells in Lenox Township, citing inadequate casing. DEP is also investigating methane contamination in wells in Wyoming County, Pa. operated by Chief Oil & Gas. A Chief spokesman said that the levels of methane in the water matched levels found in the water before the wells were drilled.