In 1860, at the age of 60, Joseph Glidden invented barbed wire. He patented it the next year and sold the patent in 1876 to a company named Washburn and Moen, retaining a royalty that made him one of the richest men in the US.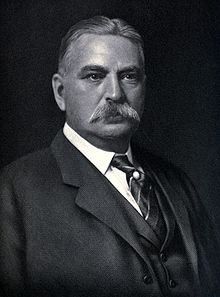 John Warne Gates was born in Chicago in 1855. After several failed business, Gates became a salesman for Washburn and Moen. They gave him Texas as his sales territory. To show the benefits of barbed wire Gates set up a demonstration at the San Antonio Military Plaza. He built a barbed-wire pen and placed 100 head of cattle in the pen, who were run full speed into the fencing; the fence held. He sold lots of barbed wire for Washburn and Moen, then started his own successful wire business, which he later sold to JP Morgan's US Steel. So he got in the steel business, forming Republic Steel, and invented a new process to purify iron called the open-hearth process.
In 1900, Patillo Higgins was drilling a well at a place called Spindletop, near Beaumont. He ran out of money, and Gates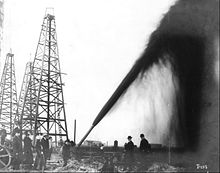 eventually invested $590,000 into the project. On January 10, 1901 the well blew in and spewed 100,000 barrels of oil a day for nine days. The company Gates invested in, the Texas Company, which later became Texaco. Gates became its president.
Gates was influential i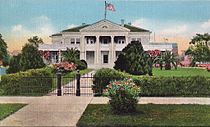 n the development of Port Arthur. He built a home there (right), founded its first bank, built a rice mill, and established the Port Arthur Light, Power and Ice Company. He bought the Port Arthur Canal and Dock Company and in 1906 gave it to the US government on the condition that Port Arthur would be named an international port of entry. Gates made Port Arthur his permanent residence in 1908. He built Mary Gates Hospital in memory of his wife, who died in 1908.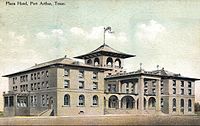 Gates built the Plaza Hotel in Port Arthur in 1909. He hired African-Americans as waiters.
After he died in Paris in 1911 at age 56, his widow built the Gates Memorial Library (right) and gave it to the city.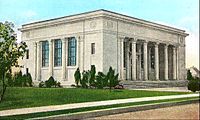 He is buried in the family mausoleum at Woodlawn Cemetery in The Bronx.
Gates was an inveterate gambler and loved to bet on horses.  In 1900 he won $600,000 on a $70,000 bet on a horse race in England, and as a result became known as Bet-A-Million Gates. In a race at Chicago's Washington Park in 1902 Gates won $650,000 on a bet; the head of the track asked him to limit his bets to $10,000.
A Texan of the guilded age.