Recent news of interest:
New York Times reporter Ian Urbina has a recent article claiming that lenders taking mortgages on real estate are restricting their borrowers from granting oil and gas leases on the mortgated property. The article also discusses whether the granting of a lease on mortgaged property might violate the terms of the mortgage. Urbina says Congressmen Ed Markey and Maurice Hinchey asked Fannie Mae and Freddie Mac how they deal with oil and gas leases on mortgaged property. Chesapeake said that they don't seek approval from lenders before acquiring leases on mortgaged property, but wait until they are ready to drill to ask the mortgage company to subordinate their lien to the mortgage.
In my experience in Texas, the standard practice has been for the oil company to lease the land first, then determine if it is mortgaged, and if so ask the lender to subordinate is lien. Lenders are generally agreeable, believing that, if a well is drilled, the value of their collateral will be enhanced, since they will still have a lien on the royalty interest reserved by their borrower. I recently learned, however, that Fannie Mae is requiring that its borrowers on commercial properties insert specific provisions in the lease before agreeing to the lease, as well as charging a substantial fee. On new leases of residential lots in the Barnett Shale, Chesapeake is sending a lender subordination form to the lot owner along with the lease and asking the owner to get their mortgagee's consent before paying for the lease.
The Booming Eagle Ford Shale
There are now 1,231 wells producing from the Eagle Ford Shale in South Texas, in 25 counties. Total production to date is more than 37 million barrels of oil/condensate and 311 Bcf of gas. The biggest counties are DeWitt, Karnes, Dimmit, Webb and La Salle.  DeWitt and Karnes Counties are the best oil producers so far. In DeWitt County, 99 Eagle Ford Wells have produced 6.8 million barrels, and the average peak month daily production was 555 barrels. Webb County is tops on Eagle Ford gas production, with 116 Bcf of gas to date, and an average initial production rate in the first month of 3.4 mmcf from 215 wells. As of last month, 238 rigs were running in the Eagle Ford play (compared to 115 in the Marcellus). Drilling in the Barnett Shale play, a gas play, has declined to its lowest level in seven years because of the low price of natural gas.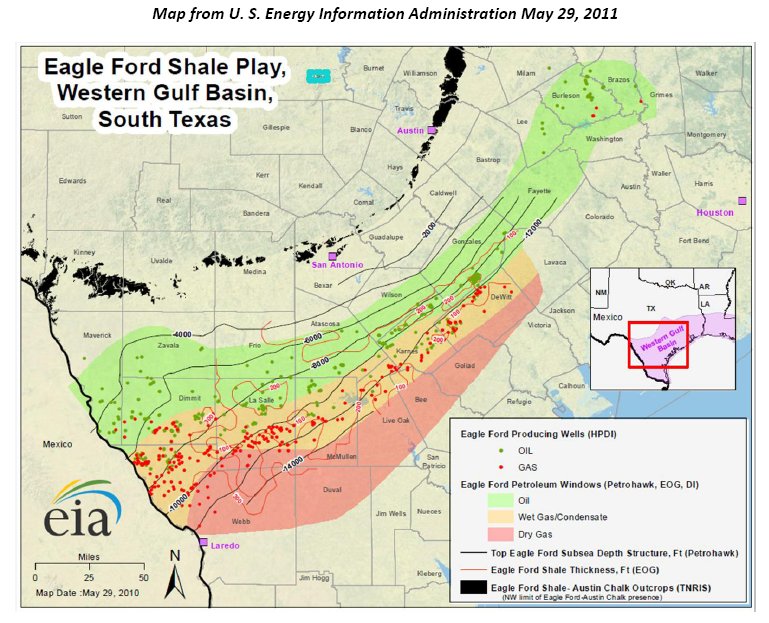 Kinder Morgan Buys El Paso Corp. for $21 Billion
Kinder Morgan's acquisition will make it the largest operator of gas pipelines in the US and the fourth largest energy firm in North America. Kinder Morgan is reportedly planning to sell El Paso's exploration and production assets, for as much as $7 billion.
Brigham Exploration Sold to Statoil for $4.4 Billion
On the local front, in my home town of Austin, the two Brigham brothers have cashed in, selling their company for $4.4 billion to Norway's Statoil. The Brighams started their company here in Austin several years ago, taking in public, and recently acquired 375,00 acres on the Bakken and Three Forks plays in North Dakota and Montana. Brigham has already been sued by its shareholders, who say that Statoil's price of $36.50 per share is too low.
 RRC Eagle Ford Task Force Adopts "Advisements"
A task force appointed by the Commissioner David Porter of the Texas Railroad Commission has adopted "advisements" regarding construction of pipelines and roads in the area of the Eagle Ford Shale play. The task force was appointed in July to "open the lines of communication between all parties, establish best practices for developing the Eagle Ford Shale, and promote economic benefits locally and statewide."  The task force has twenty members:
Leodoro Martinez – Middle Rio Grande Development Council, Executive Director, Cotulla
Kirk Spilman – Marathon Oil, Asset Manager Eagle Ford, San Antonio
The Honorable Jaime Canales – Webb County Commissioner, Precinct 4, Laredo
Teresa Carrillo – Sierra Club, Executive Committee Member – Lone Star Chapter, Treasurer – Coastal Bend Sierra, Corpus Christi
James E. Craddock – Rosetta Resources, Senior Vice President, Drilling and Production Operations, Houston
Erasmo Yarrito – Texas Commission on Environmental Quality, Rio Grande Valley Water Master, Harlingen
Steve Ellis – EOG Resources, Senior Division Counsel, Corpus Christi
The Honorable Daryl Fowler – Dewitt County Judge, Cuero
Brian Frederick – DCP Midstream, Southern Unit Vice President for the East Division, Houston
Anna Galo – Vice President, ANB Cattle Company, Laredo
The Honorable Jim Huff – Live Oak County Judge, George West
Stephen Ingram – Halliburton, Technology Manager, Houston Business Development & Onshore South Texas, Houston
Mike Mahoney – Evergreen Underground Water Conservation District, General Manager, Pleasanton
James Max Moudy – MWH Global, Inc., Senior Client Service Manager, Houston
Trey Scott – Trinity Minerals Management, LTD, Founder, San Antonio
Mary Beth Simmons – Shell Exploration and Production Company, Senior Staff Reservoir Engineer, Houston
Terry Retzloff – TR Measurement Witnessing, LLC, Founder, Campbellton
Greg Brazaitis – Energy Transfer, Vice President, Government Affairs, Houston
Glynis Strause – Coastal Bend College, Dean of Institutional Advancement, Beeville
Susan Spratlen – Pioneer Natural Resources, Senior Director, Corporate Communications & Public Affairs, Dallas
Chris Winland – Good Company Associates; University of Texas at San Antonio, Interim Director, San Antonio Clean Energy Incubator, Austin/San Antonio
Paul Woodard – J&M Premier Services, President, Palestine
The task force adopted the following advisements regarding pipelines and roads.
Pipelines:
• Placement of pipelines should avoid steep hillsides and watercourses where feasible.
• Pipeline routes should take advantage of road corridors to minimize surface disturbance.
• When clearing is necessary, the width disturbed should be kept to a minimum and topsoil material should be stockpiled to the side for replacement during reclamation, accelerating successful revegetation.
• Proximity to buildings or other facilities occupied or used by the public should be considered, with particular consideration given to homes.
• Unnecessary damage to trees and other vegetation should be avoided.
• After installation of a new line, all rights-of-way should be restored to conditions compatible with existing land use.
Roads:
• Trucking companies partnering with the Texas Department of Public Safety to develop a program that would alert companies when their drivers receive moving violations or drivers license suspensions.
• Creation of road use agreements or trucking plans between operators and local authorities, including parameters such as:
1. Avoiding peak traffic hours, school bus hours, and community events.
2. Establishing overnight quiet periods.
3. Ensuring adequate off-road parking and delivery areas at all sites to avoid lane/road blockage.
The task force is supposed to meet monthly.
In the Marcellus: