WSJ Weighs In On Fracing Controversy
The Wall Street Journal gives its opinion on the dangers of hydraulic fracturing, siding with the industry: "The shale gas and oil boom is the result of U.S. business innovation and risk-taking. If we let the fear of undocumented pollution kill this boom, we will deserve our fate as a second-class industrial power."
Powell Shale Digest Issues Report on Eagle Ford
The Digest reported on wells drilled so far in Eagle Ford fields in Texas. Enough information is now publicly available to begin to see where the play is headed, and where it's most successful.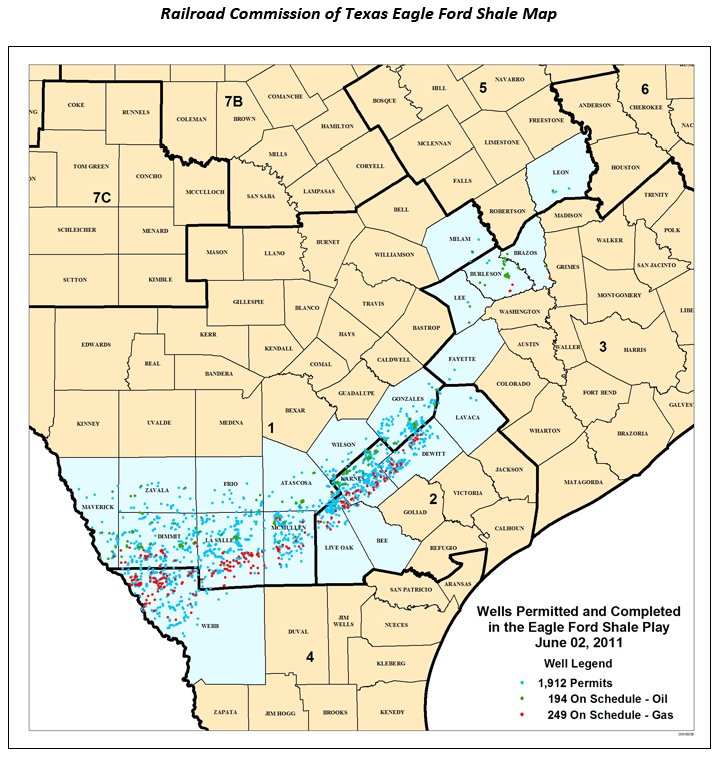 The counties with highest oil and gas production are Dimmit, Karnes, Webb and La Salle. The counties with the best results per well are Karnes and DeWitt: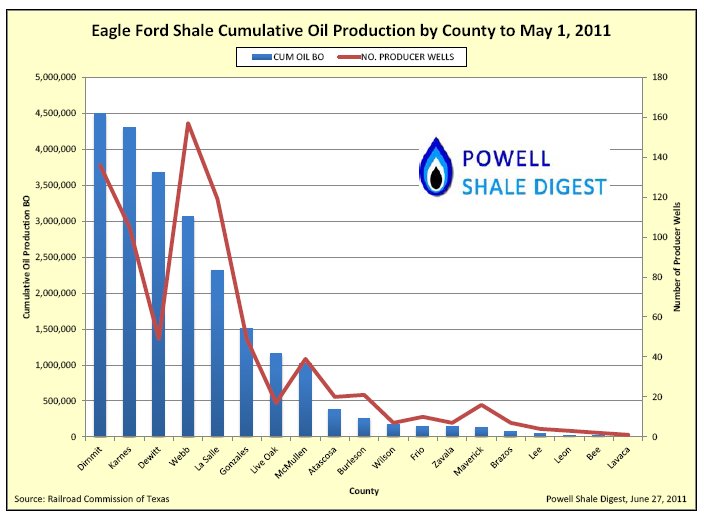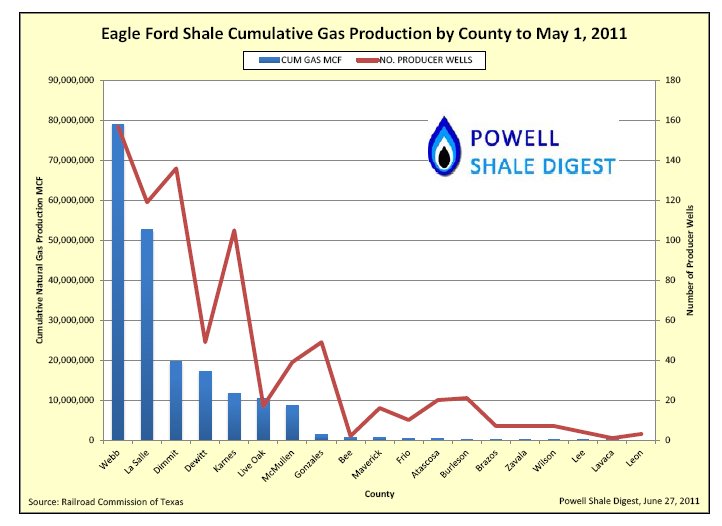 Baker Hughes' oil rig count reached 1,000 for the first time since it began tracking oil and gas rigs separately in 1987. 843 oil and gas rigs are currently located in Texas. 
EPA Announces Seven Shale Gas Sites for Frac Study
The EPA, proceeding ponderously with its Congressionally mandated study of the risks of fracing, has selected seven sites to study, two in Texas: the Haynesville (Louisiana and East Texas) and the Barnett (Wise and Denton Counties). Other sites are in the Marcellus in Pennsylvania, the Raton Basin in Las Animas County, Colorado, and the Bakken in Kildeer and Dunn Counties, North Dakota.
ProPublica Says That State Laws Requiring Disclosure of Frac Fluids Too Lenient
It contends that there are too many exemptions from disclosure. Governor Rick Perry recently signed Texas' new frac disclosure law. California is considering a similar law that will undoubtedly be less lenient.
 Range Resources Continues Fight in Parker County
Senior U.S. District Judge Royal Ferguson refused to dismiss the EPA's enforcement action against Range for allegedly polluting water wells in Parker County, Texas; but he stayed the case pending Range's appeal of EPA's action to the 5th Circuit Court of Appeals, which alleges that EPA had no jurisdiction to issue its order. Steven and Shyla Lipsky, the landowners who contend that Range fouled their groundwater, sued Range for $6.5 million.
Recycling of Frac Water to Begin in Eagle Ford
Fountain Quail Water Management, a subsidiary of Aqua-Pure Ventures, was awarded a permit by the Railroad Commission to recycle wasterwater in the Eagle Ford. Fountain Quail has already done some recyclying in the Barnett Shale. In the Marcellus in Pennsylvania, where disposal of frac water is more of an issue, producers are hauling produced water to Ohio for disposal – an estimated 1.18 million barrels between January and March. Concerns have been expressed about depletion of groundwater resulting from fracing in South Texas, especially in the current drought. Local groundwater districts, which regulate groundwater well permits and withdrawals, have no jurisdiction over wells used in the oil and gas industry, which are exempt.