Texans for Public Justice, www.tpj.org, issued its report on 2012 Election Cycle Spending by Texas political action committees.  You can see it here. Some highlights:
Of the $70 million spent by Texas business PACs in 2011-12, $11.9 million, or 9%, was spent by PACs devoted to energy and natural resources issues/candidates. Here are the top spenders: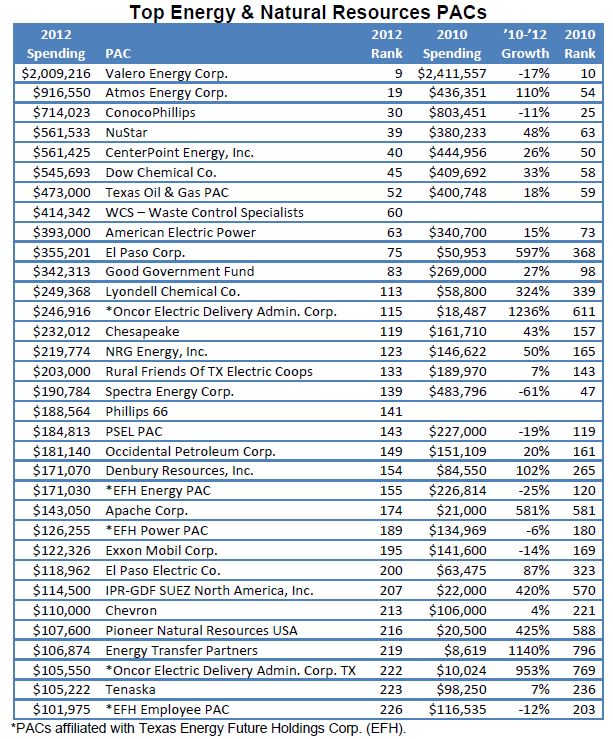 The above figures represent spending by these PACs both in-state and out-of-state.
Energy Future Holdings is the successor to TXU Corp., acquired by EFH in a $45 billion leveraged buyout. EFH, now threatened with bankruptcy, is one of the state's largest electricity generators. The five EFH PACs spent more than $750,000. 
Valero Energy's PAC spent $729,000 of its $2 million in Texas and was a larger supporter of Senator Ted Cruz. ConocoPhillips' PAC spent $221,000 in Texas and gave large sums to Texas Railroad Commissioners.
Lawyer and lobbyist PACs were also big spenders: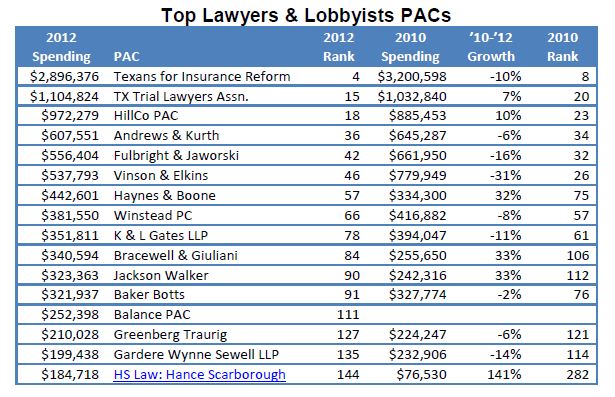 In 2010, Public Citizen issued a report on political contributions to Texas Railroad Commissioners. It found that total funds raised by commissioners increased from $511,000 in 2000 to $3.5 million in 2007-2008. Industry donors increased from $230,000 in 2000 to more than $2.1 million in 2008: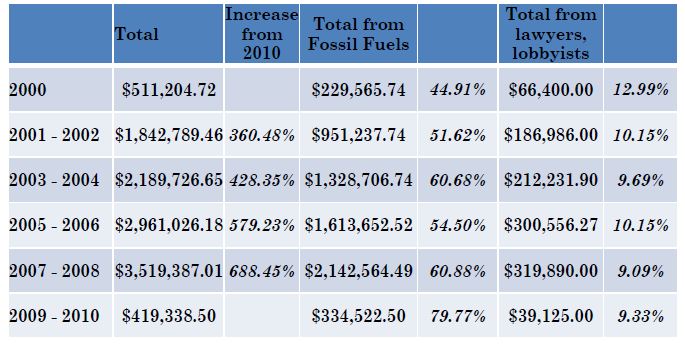 Contributions to sitting commissioners increased substantially in 2006 and 2008 election cycles: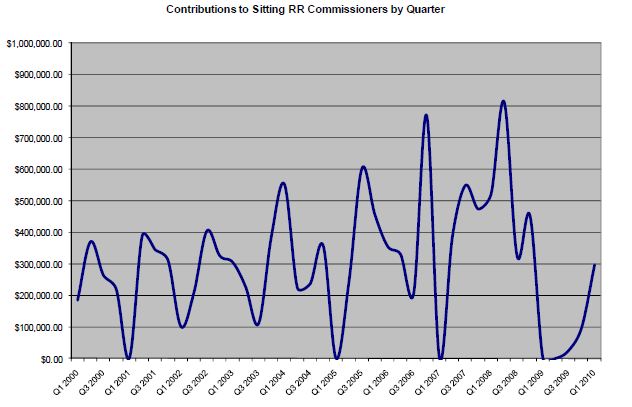 Public Citizens' conclusions:
Most of the increase in funding of commission races is driven by industry and those who have an economic interest in the decisions made by the commission.
Increased spending by large donors is likely putting pressure on smaller, independent operators to contribute.
Fundraising rarely ceases, except just after an election.
The Railroad Commission has been up for review by the Texas Sunset Commission in the last two sessions of the Texas Legislature, and both times the legislature failed to enact any of the recommendations of the Sunset Commission — save one. In 2012, the legislature passed a bill requiring commissioners to resign if they decide to run for another elective office.  Governor Rick Perry vetoed that bill.  Among the Sunset Commission's recommendations was that the commission should levy more fines for violation of commission rules.  In the first quarter of 2013, the commission issued almost 14,000 notices of violations; it collected less than $200,000 in fines.