I have recently seen articles predicting the end of the shale boom, coming not only from those who have consistently predicted that shale production would never amount to anything, but also from respected sources whose predictions have previously proven accurate. A recent Houston Chronicle article quotes from a paper written by Amy Myers Jaffe, executive director for energy and sustainability at the University of California, Davis, and Mahmoud El-Gamal of Rice University, saying that "The most likely scenario – absent war – is for oil prices to decline significantly." A significant decline in oil prices would make many if not most wells shale wells now being drilled in the Eagle Ford and Permian areas of Texas uneconomical. Jaffe expects oil prices to decline in the next three to five years. "To hold up prices it would have to be a regime change in several countries that results in lasting civil wars with lots of infrastructure being blown up," she said.
An article in Business Week says that the break-even price for profitability in the Cline Shale play of the Permian Basin is $96 per barrell; in the Eagle Ford, it's $78/barrel, and in the Bakken, $84.  Here is one analyst's prediction of future oil prices: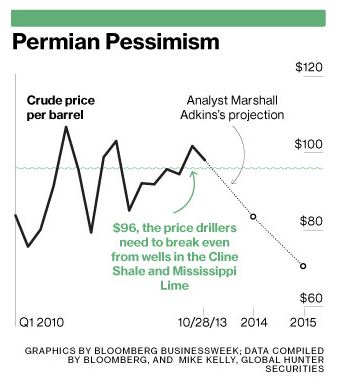 Falling fuel demand is a big part of the prediction.  Jaffe believes demand will fall even with continued growth in China and other emerging nations. The average fuel economy for new vehicles in the US is up 4.7 mpg since October 2007. And Americans are driving less.  Lower-priced natural gas will replace some of the oil demand.  From the Energy Information Administration: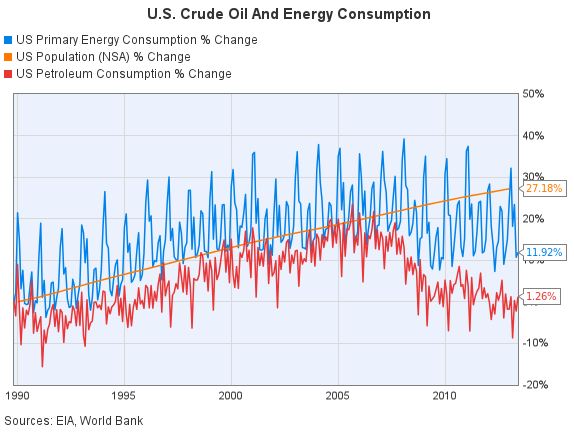 And, as with natural gas in the latter part of the last decade, US crude oil production and resulting supply are increasing: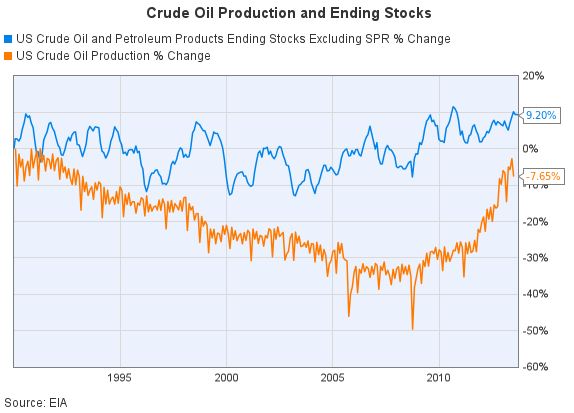 EIA has begun publishing a new report, its "Drilling Productivity Report," focusing on production in the six major shale plays in the US.  The report appears to me to highlight two attributes of shale plays:  first, companies are lowering the cost of drilling and completing wells in these plays, increasing the efficiency of putting new production online; and second, the industry has to continue to drill wells to replace the rapid decline in production from these plays. Here are a couple of the EIA's charts from its recent analysis of Eagle Ford wells that illustrate these attributes: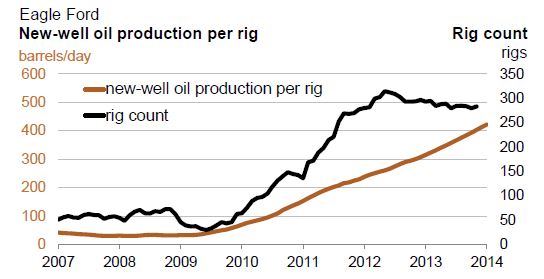 This shows that fewer rigs are needed to continue the increase in production from the Eagle Ford.
On the other hand, it takes continuous drilling to replace the decline in existing production: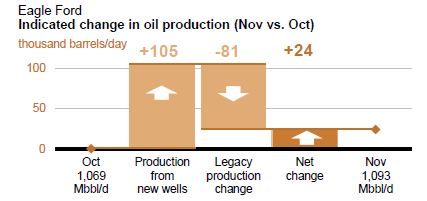 The above chart tells me that, if and when oil prices decline, the growth in oil production from the Eagle Ford will quickly turn into a rapid decline, when rigs leave the play.