The San Antonio Court of Appeals handed down its opinion last week in Strickhausen v. Petrohawk Operating Company, No. 04-18-00636-CV.  The issue: Did Ms. Strickhausen ratify a pooled unit not authorized by her lease, or is she estopped from contesting the validity of the unit, because she accepted royalty checks calculated on her unit interest in production? The trial court held that she did; the Court of Appeals reversed and remanded, holding that there were issues of fact as to whether she intended to ratify or was estopped.
The issues relate to Petrohawk's WK Unit 4 1H Well in La Salle County: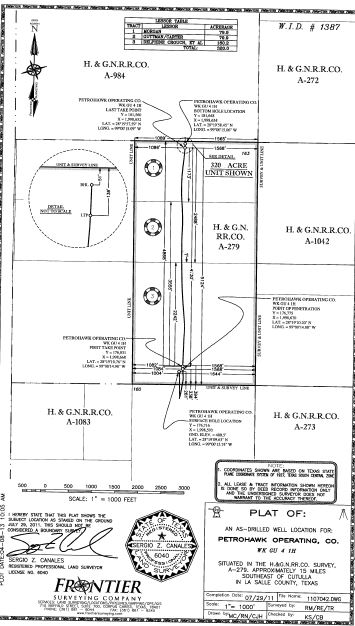 Ms. Strickhausen owns a 1/2 mineral interest in Tract 3 shown above. Her lease prohibits pooling without her consent. Without obtaining her consent, Petrohawk filed a pooled unit designation including her lease and drilled the well. It then asked Ms. Strickhausen to ratify the unit. Settlement negotiations were unsuccessful. Petrohawk sent Ms. Strickhusen checks for her share of unit production, which she cashed, but her attorney continued to tell Petrohawk that she objected to the pooled unit.
Petrohawk filed a motion for summary judgment asserting that, by cashing royalty checks, Ms. Strickhausen had ratified the unit or was estopped from denying that her lease was pooled. The trial court agreed, holding:
Both attempts at pooling breached the lease's no pooling clause, but Plaintiff ratified that breach by accepting, and negotiating, royalty checks from the pooled units. Even if it was not Plaintiff's intention to ratify the pooled unit, she is estopped, as a matter of law, from denying that she did so.
Ms. Strickhausen's lease contains the following provision:
At any time during the term of this Lease if Lessee requires Lessor to execute any document, including division orders or any other agreement connected in any way to this Lease or the minerals extracted from the Leased Premises, Lessee agrees that Lessor's execution of such agreement(s) shall not, irrespective of the language contained therein, constitute a waiver, acceptance, ratification, revivor or adoption of this Lease or a waiver of any claim, demand or cause of action Lessor or any royalty owner may have or claim for any breach of an expressed or implied obligation arising out of or in any way connected with this Lease unless such document expressly states that its purpose is the acceptance, ratification, revivor or adoption of a prior questionably lease or waiver of a claim or defense and such document is agreed to after and upon advice of Lessor's counsel, with such counsel indicating his concurrence by signing such document or a separate letter so stating. Further, Lessee agrees to reimburse Lessor for reasonable attorney's fees incurred by Lessor in connection with Lessor's attorney's review of such agreement.
The trial court held that by this language Petrohawk "did not waive their right to assert estoppel for her implied ratification by negotiating the royalty checks."
The Court of Appeals concluded that, because Ms. Strickhausen, through her attorney, made clear to Petrohawk that she would not ratify the pooled unit, the evidence did not conclusively show that she had knowingly approved the pooled unit by accepting royalty checks. Therefore, the summary judgment evidence raises an issue of material fact precluding summary judgment on Petrohawk's claim of ratification.
Petrohawk also argued that Ms. Strickhausen was estopped from denying the validity of the pooled unit by accepting the royalty checks. Ms. Strickhausen argued that she cannot be estopped because she was entitled to the royalties paid to her whether or not she ratified the unit. The Court of Appeals noted that the basis of the trial court's ruling was that, by accepting the checks, Ms. Strickhausen was estopped from denying that she had ratified the pooled unit. The court said this was a narrow basis for granting summary judgment based on estoppel, and because there was a fact issue on whether Ms. Strickhausen intended to give validity to the designation of pooled unit, the summary judgment could not be affirmed on the basis of estoppel. "If we have misread the trial court's order and the trial court intended to make broader findings regarding estoppel independent of the affirmative defense of ratification, we hold an issue relating to such broader estoppel findings would be beyond the scope of the controlling issue governing this permissive appeal."
The Court of Appeals held that the no-waiver language in the lease did not foreclose Petrohawk from asserting that Ms. Strickhausen had ratified the lease by accepting checks. The Court said the clause
addresses documents the appellees as lessees "require" Strickausen to execute. The appellees did not "require" Strickhausen to execute the royalty checks. Strickhausen chose to endorse the royalty checks to receive the funds those checks represented.
Note that the no-waiver clause in Ms. Strickhausen's lease deals with ratification and waiver but not estoppel. So it appears that Ms. Strickhausen's no-waiver clause is no defense against claims of waiver or estoppel by accepting royalty checks.
Here is another lease clause attempting to avoid losing claims by waiver or estoppel:
Neither the acceptance of royalties, shut-in royalties or other payments by Lessor (regardless of any notation thereon or instrument accompanying same), nor Lessor's execution of any division order or transfer order or similar instrument, shall ever constitute or be deemed to effect (a) a ratification, renewal or amendment of this Lease or of any pooled unit designation filed by Lessee purporting to pool the lands covered by this Lease, or (b) a waiver of the rights granted to Lessor, or the obligations imposed upon Lessee, express or implied, by the terms of this Lease, or remedies for Lessee's breach thereof, or (c) an estoppel against Lessor preventing Lessor from enforcing Lessor's rights or Lessee's obligations hereunder, express or implied, or from seeking damages for Lessee's breach thereof.  Lessor's agreement to accept royalties from any purchaser shall not affect Lessee's obligation to pay royalties pursuant to this Lease.  No instrument executed by Lessor shall be effective to constitute a ratification, renewal, extension or amendment of this Lease or any pooled unit or other instrument unless the instrument is clearly titled to indicate its purpose and intent.
I am often faced with advising clients about the issue faced by Ms. Strickhausen: can my client cash her check without waiving a right under her lease? As this case illustrates, the issue is not clear, even if the lease purports to shield the royalty owner from claims of waiver or estoppel. If a royalty owner believes she has claims related to her lease she should consult with counsel before accepting royalty payments under the lease.