The Texas Railroad Commission has issued its Monitoring and Enforcement Plan for fiscal year 2019. The plan was required by a 2017 law that directs the RRC to develop an annual plan to assess its use of resources to ensure public safety and minimize damage to the environment. It requires the RRC to track monitoring and enforcement activities. Highlights:
The RRC has 158 oil and gas field inspectors. They average more than 123,000 inspections each year and are expected to conduct 130,000 inspections in fiscal 2019.
The RRC Oil and Gas Division receives about 600 complaints each year, from operators, mineral owners, surface owners, government agencies and members of the public. According to the Plan, "the complainant receives written updates on the progress of the investigation and any related enforcement action. The complainant is also notified when the complaint is closed."
The Plan explains the methods of enforcement for RRC rule violations:  Notices of violation, seals/severances, permit actions, administrative penalties, and revocation of authority to operate.
The legislature has also required the RRC to publish a quarterly report of oil and gas enforcement data.  It can be found here. The 2018 report is as follows (click on image to enlarge):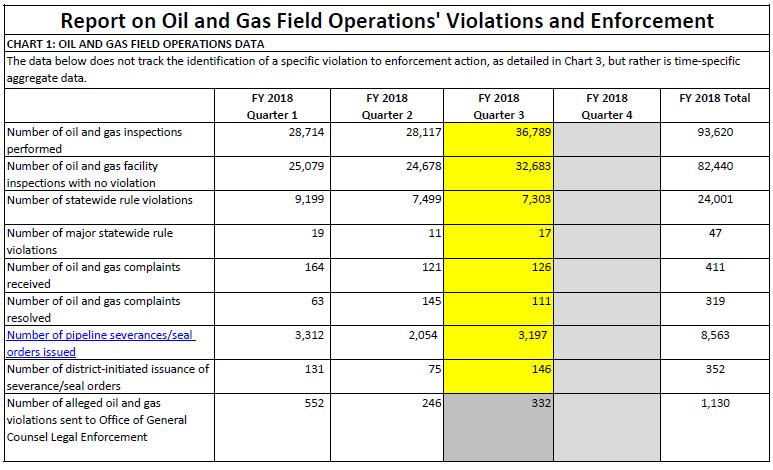 The RRC defines a "major violation" as "a safety or pollution related violation that causes a significant impact to public safety and/or the environment, is accompanied by conditions that indicate a significant impact to public safety and/or the environment is imminent, or is the result of deliberate disregard of Commission rules and regulations related to public safety or environmental protection." As an example, a major violation includes "an unauthorized discharge of oil or gas waste into a sensitive area. A sensitive area is defined by the presence of factors, whether one or more, that make an area vulnerable to pollution. Factors that are characteristic of sensitive areas include the presence of shallow groundwater or pathways for communication with deeper groundwater; proximity to surface water, including lakes, rivers, streams, dry or flowing creeks, irrigation canals, stock tanks, and wetlands; proximity to natural wildlife refuges or parks; or proximity to commercial or residential areas."
The RRC also announced that, as part of its Plan, "the Commission is developing an online, searchable database that will allow the public to search oil and gas operator violations by several factors including county, RRC lease number or RRC rule. The agency's goal is to unveil the database in early 2019. This database will be available 24/7 to provide information and increase our transparency."
The RRC is also digitizing historical hearing files from 1935 to June 2011, and will be searchable and online,including oil and gas enforcement cases, new field discoveries, and establishment of field rules.The goal is to have this done in FY 2019. According to the announcement, more than 3,770 linear feet of paper documents will be digitized.